Revolutionary Mystic
Regular price
Sale price
$22.99 USD
Unit price
per
Sale
Sold out
High John conjure oil can be used in a multitude of ways. John the Conqueror is a Black ancestor spirit known for outwitting and triumphing over slave owners, and helping others to do the same. High John refers to the specific variety of this botanical root. Low John is used for different but similar purposes, often referred to as "chewing John". The High John root is hard to come by as it is RARE to find in its true form, many sellers sell other botanical roots claiming they're High John but in fact are not the real deal.
It took me almost 2 years to find and import the true variety of High John root. This oil contains a chunk of this very powerful and sought-after root, which is yours to reuse when the oil has been used up. I'd put it in a mojo hand or anywhere that could use a boost of "overcoming adversity" energy.
Use the oil as an empowering personal fragrance, in a crossroads ritual, or simply anoint your favorite altar items or conjuring tools, such as; mojo hands, roots, spiritual idols etc. Contains 100% grapeseed oil, premium natural fragrances, and organic ingredients. This limited edition oil is prepared in small batches ritualistically, by Mētztli Wolf.
In my practice, Hoodoo, dressing oil is used to anoint objects of all sorts with your intentions and is most commonly used on spell candles, talismans, and some folks even anoint themselves. You may choose to use it however best suits your practice and needs, for external use only. All conjure products are sold as a curio and are intended for external use only. Made cruelty-free, phthalate-free and dye-free, and biodegradable.
Tax and shipping charges apply. Shipping pro-tip: most domestic shipping items get sent USPS priority flat rate mail, purchasing more than 1 item at a time typically makes shipping costs more affordable.
Share
View full details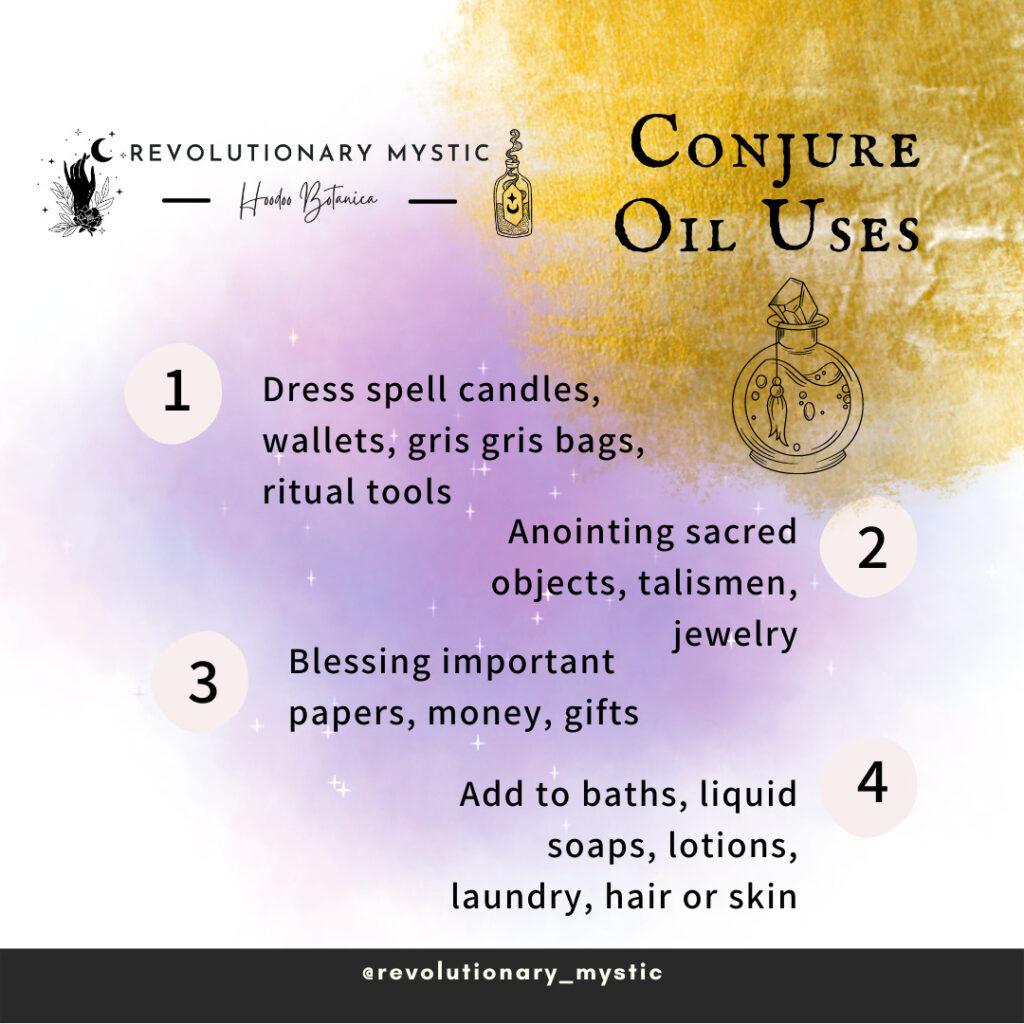 Answers to frequently asked questions..
Where do you ship to?

We are located in the US and currently ship domestically, as well as to Canada, Europe, and Puerto Rico. International shipping costs apply.
When can I expect to receive my order?

Depending on current demand and seasonal fluctuations, we strive to get your orders shipped within 3-5 business days.

However, we are a small 2 person team and very rurally located on a wolfdog sanctuary. Inclimate weather, high product demand, and sanctuary activity can delay turnaround times as late as 7-10 business days. Unless otherwise posted on the top banner of our website.
How do I know which candle I need?

Determine whether you are wanting to attract or repel energy. Then decide what type of energy, love, luck, a home, a job etc. Poruse the selection and see which item grabs you most and if it's description resonates! If you're still uncertain, it's customary to book a reading and have spell work "prescribed" to you.
What do I do with my candle glass when the spell is finished?

We like to put our used candles in a pot with lightly simmering water. Once any remaining wax has melted, poor it into a trash container. Use an oven mit or canning tongs to remove the glass. Then wash the container glass with soap and water. Recycle or repurpose it!
Can I put my candle out? How should I put my candle out?

Yes! You may pause your spell for a length of time, especially so you don't leave a burning candle unattended. We recommend using a snuffer, not blowing it out. Or place a fire-safe plate over the top until the wick flame is put out.
How do I keep the candle wick lit?

Before the first time you light the candle AND each time you relight the candle, trim the wick to 1/4 inch using a wick trimmer.
Which oil is best for me?

We advise you select based on your intended outcome. If you're unsure, please consider booking a reading/consultation with Mētztli for detailed, customized recommendations.
How do I use conjure oils?

Conjure oils are some of our most versatile, user-friendly, ritual tools. With applications as far as the imagination can reach, these are intended for external use only. Oils are most often used to dress candles, inside oil warmers, worn as "perfume", and to anoint objects and talismans of spiritual significance.