Jazmine
Meet Jazzy, a heartwarming story of our sanctuary. Arriving as an owner surrender in January 2022, she's now our cherished ambassador wolfdog. Jazzy embarks on daily town adventures, mingling with people and spreading awareness about wolves and wolfdogs. Her playful spirit shines through as she dashes, plays, and showcases her signature 'jazz hands' trick. She's a lively presence, and soon, Jazzy will become an online educator and advocate on our upcoming YouTube channel.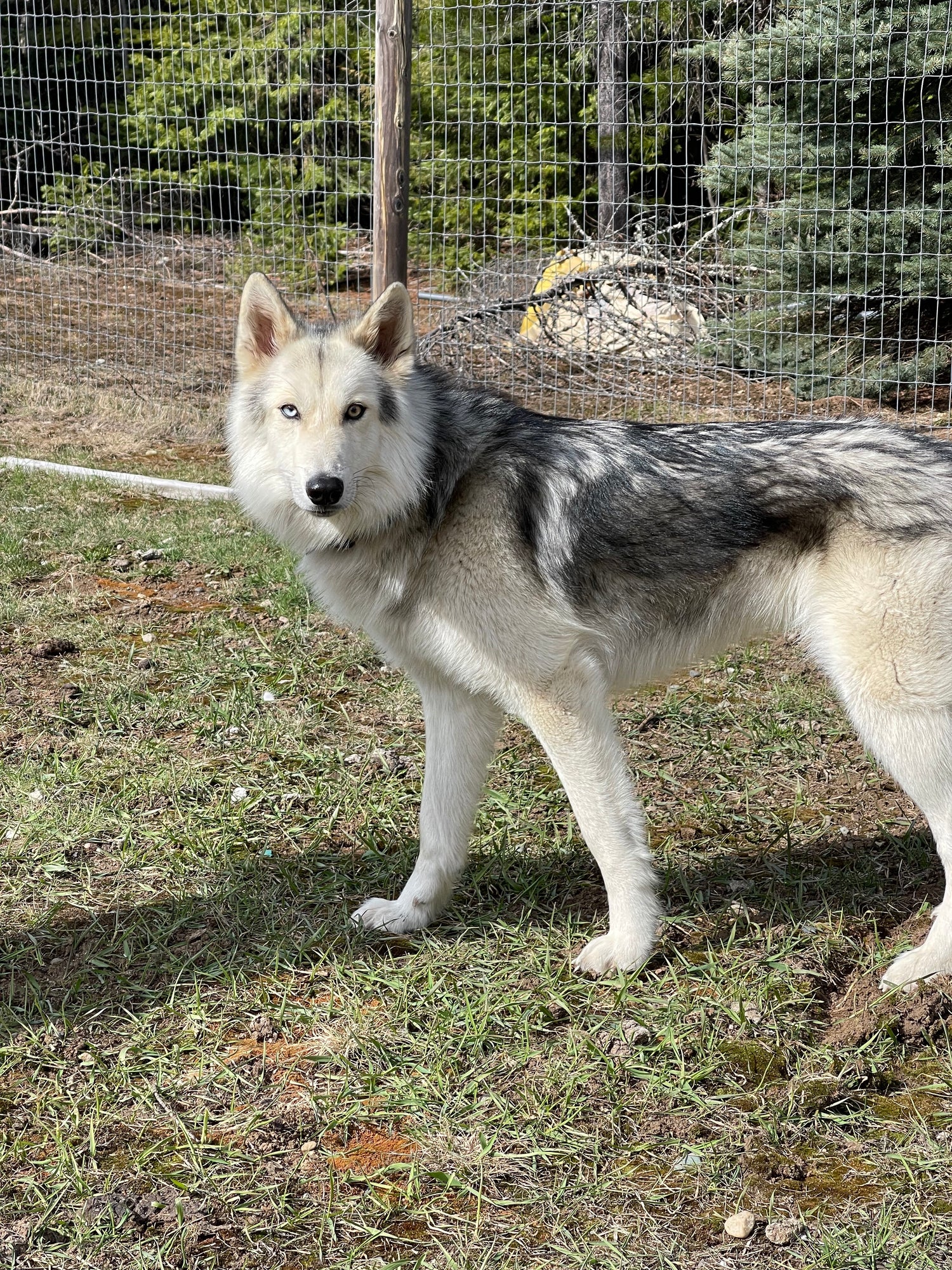 Finn
Finn, our pioneer wolfdog, made his debut just a few months after our inception in December 2021. Originally surrendered by his owner in Illinois, a state that deems wolfdogs 'illegal,' he found refuge with us via a dog rescue. Finn boasts a higher wolf content and shares his role as 'The Night's Watch' with his devoted companion, Jazmine. Together, they safeguard our sanctuary beneath the night sky while the pack rests. Finn is celebrated for his captivating heterochromia eye colors, infectious smile, and boundless affection for those closest to him.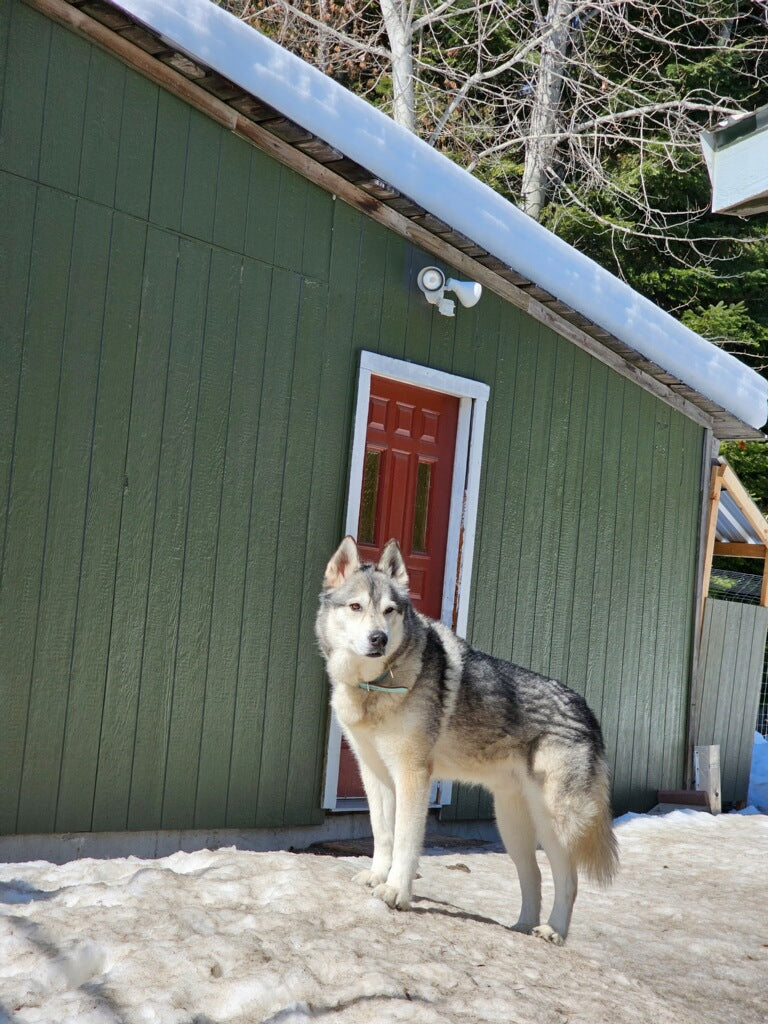 Loki
In March 2023, Loki joined our sanctuary, in search of a new home after a decade with his family, who recently welcomed a toddler. Loki, our pack's elder, possesses a serene presence, marked by a soft howl and a warm smile. In his former life, he was a Houdini-like escape artist. Now, he relishes the tranquility of sanctuary living, sharing peaceful and playful moments with fellow pack members, and faithfully shadowing his beloved humans. We're truly honored to share Loki's 'golden years' with him here at Black Moon.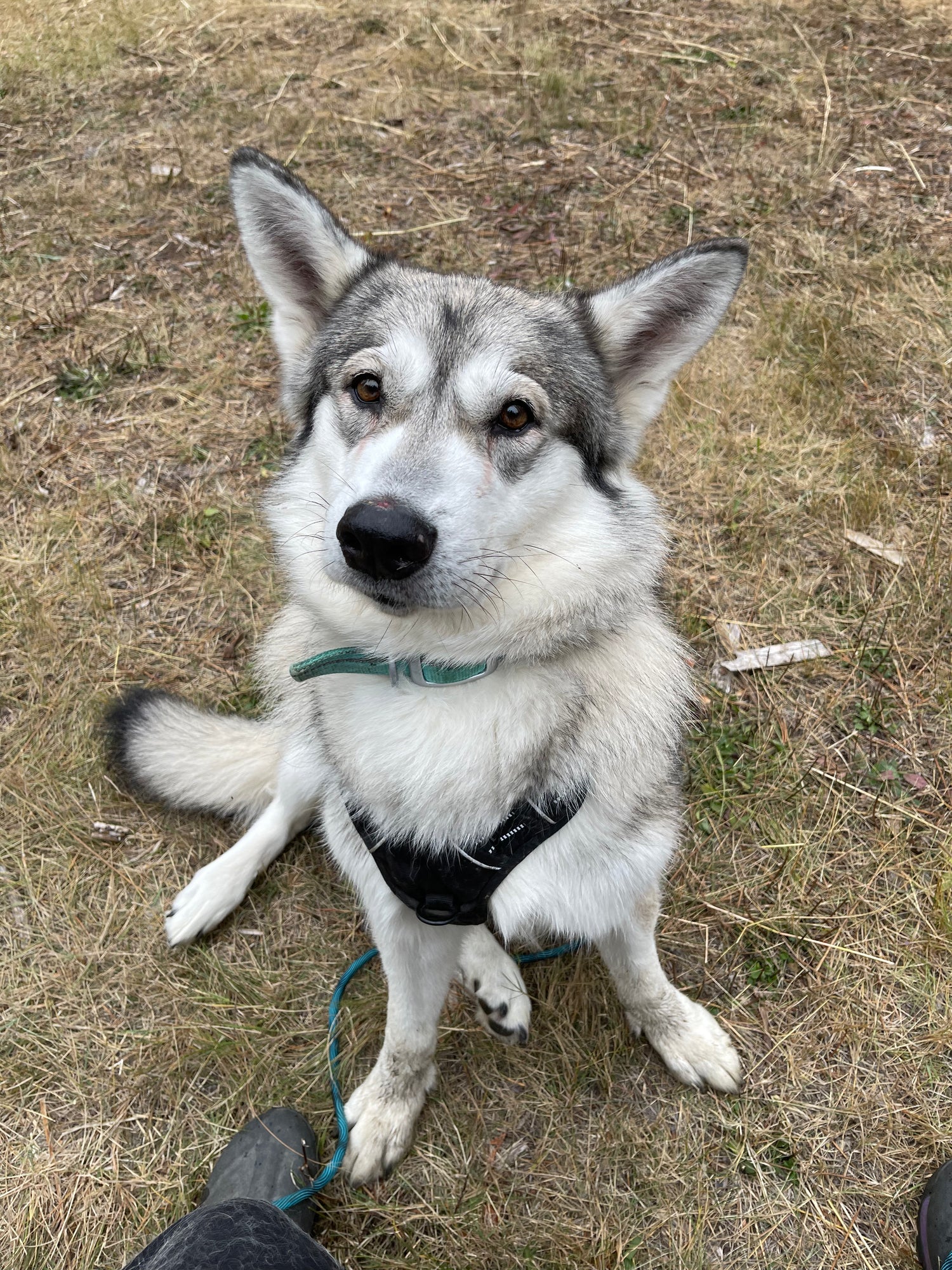 Mia
Miss Mia became part of our sanctuary family in October 2022 when her loving family made the difficult decision to rehome her due to issues with her litter-mate. As one of our higher-content wolfdogs, Mia thrives outdoors and enjoys a cozy a-frame mini cabin equipped with heating and a plush bed, designed to cater to her partially domesticated preferences. Mia embodies a strong wolf-like demeanor, showcasing a penchant for sprinting, a robust prey drive, and a dominant feminine personality. She finds joy in playfully dismantling stuffed animals, embarking on nature hikes, and working diligently for delectable meat treats. Our vision includes expanding her enclosure and facilitating suitable companionship with male wolfdogs as we continue to grow.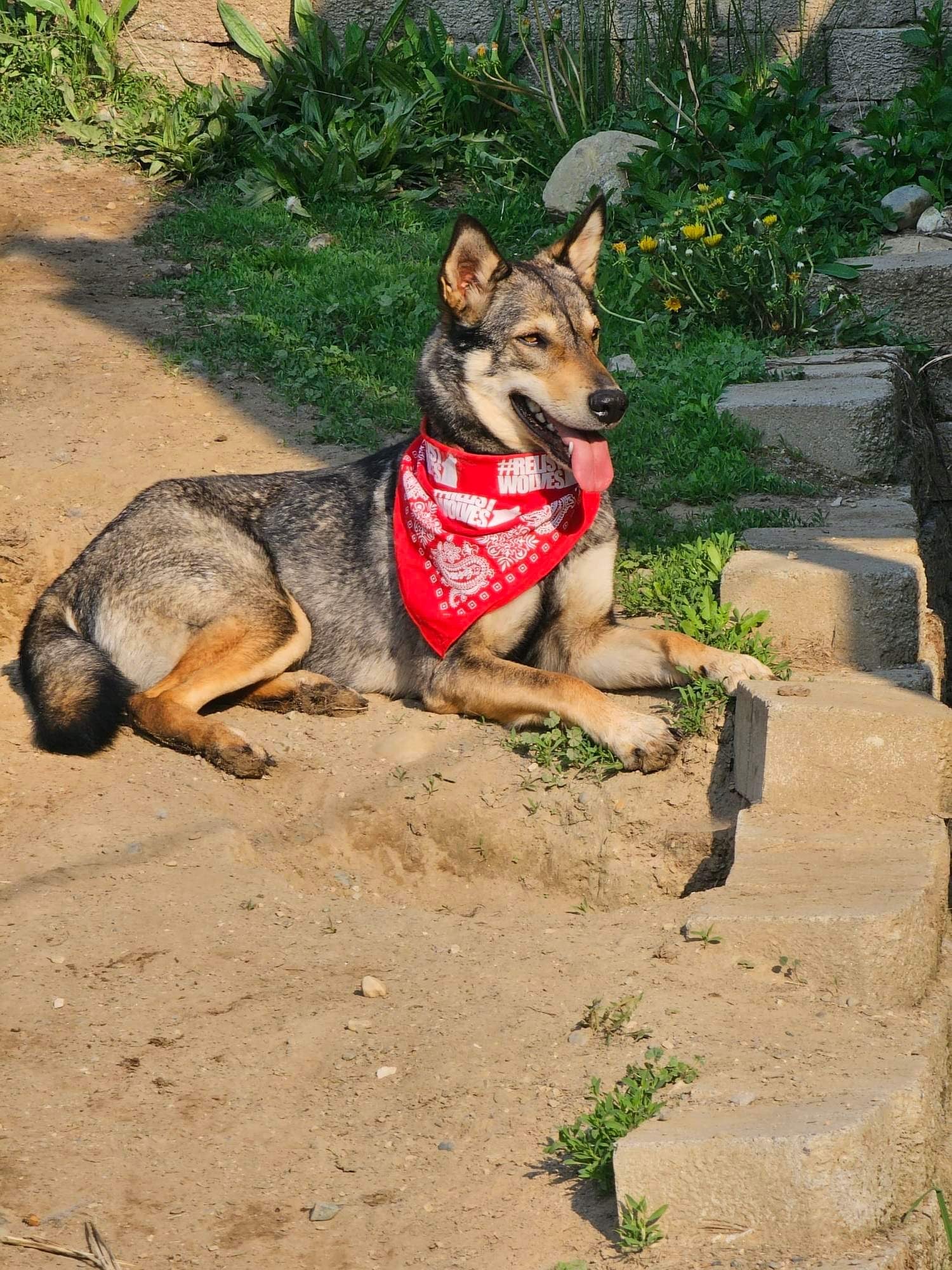 Bathsheba
Sheba, or 'Sheebs,' was entrusted to us by dedicated animal welfare advocates who rescued her from an abusive environment at the tender age of 11 months, during the Winter Solstice of 2021. Since her arrival in our sanctuary, Sheba has undergone a remarkable transformation, shedding the PTSD symptoms that once plagued her. Today, she stands as a confident adult wolfdog, cherished by both humans and her pack mates. Sheba brings youthful exuberance to our group and, interestingly, a DNA test revealed her unexpected Beagle heritage. Her vocal prowess, characterized by robust Beagle bass tones, sets her apart as our 'resident Beagle-Wolf,' making her voice a distinct presence within the pack.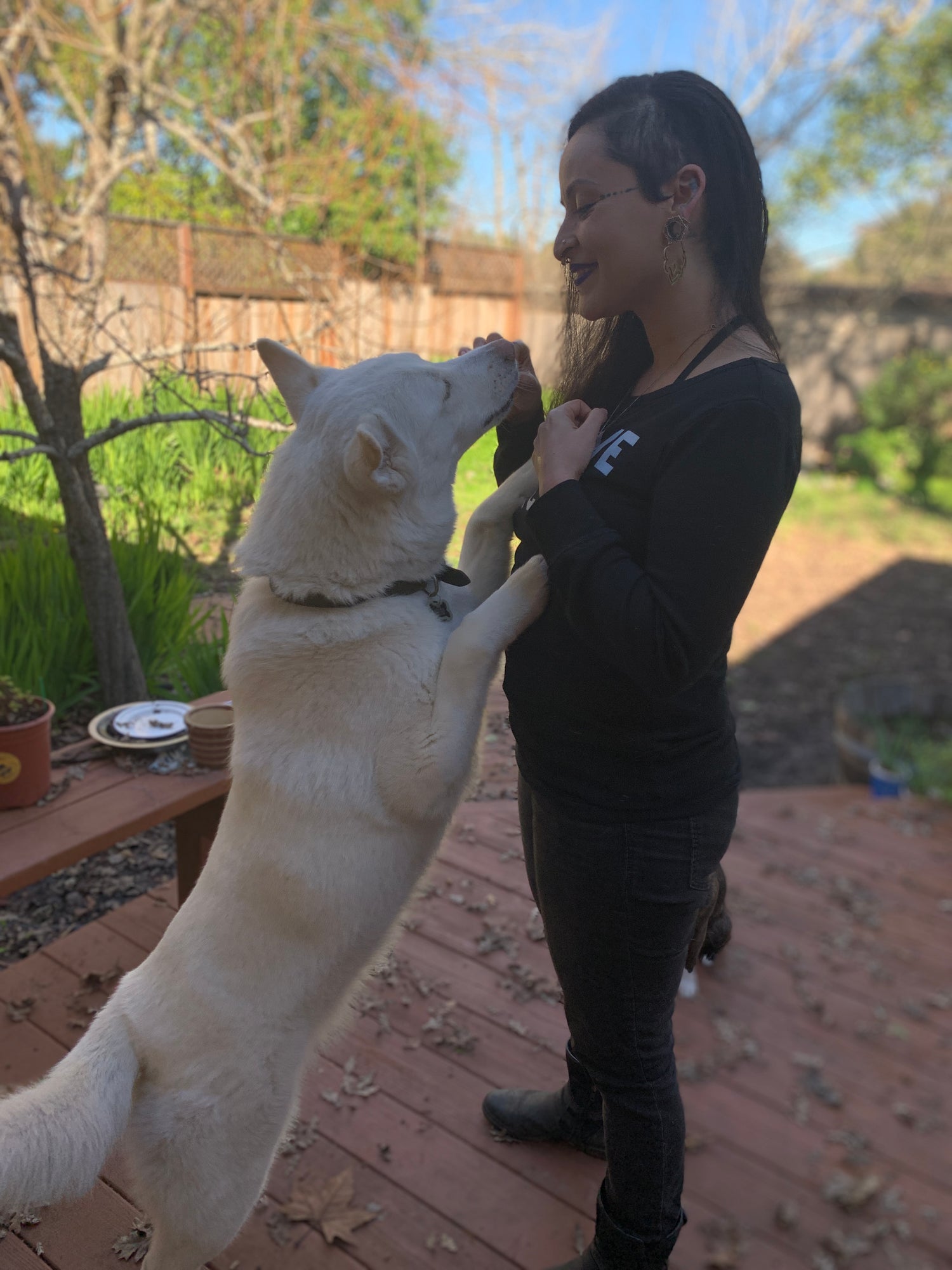 Freyja
Freyja Nymeria, our inaugural rescue and Mētztli's devoted service companion, entered our lives on a rainy afternoon in November 2018 at a shelter in Sonoma County. She seemed to beckon us, guiding us with vivid rainbows in the sky. Freyja's early days were marked by her adjustment from a life spent solely outdoors on a cramped patio, rendering her initially untamed. Today, she stands as our most sociable and affectionate pack ambassador, a loyal guardian of our sanctuary.
Freyja serves as a poignant reminder and an invaluable educator on the plight of Huskies, one of the most frequently abandoned breeds in high-risk shelters. Unprepared and uninformed owners often relinquish these beautiful creatures when they display their characteristic Husky behaviors, leading to a tragic cycle of overpopulation and mass euthanasia. Freyja's presence inspires our mission to prevent unnecessary rehoming, trauma, and the disproportionate loss of Husky-mix breeds, driven by our profound love for her.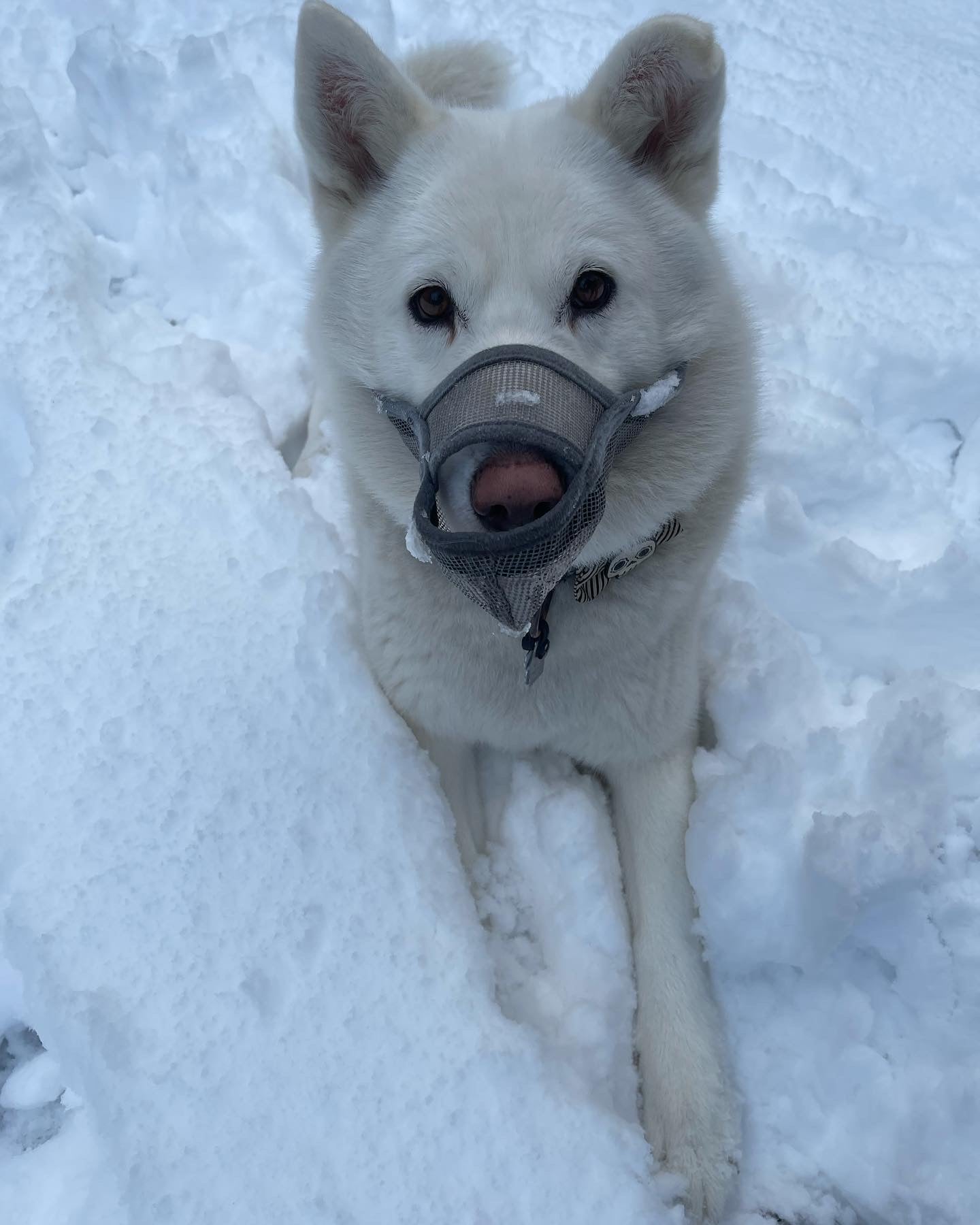 Ahsoka
Ahsoka became a cherished member of our pack in December 2019, following a few rehoming experiences. Thanks to a dear friend's tip, we discovered her at the Humane Society, and it was an instant connection. Ahsoka's unmistakable Husky 'yodeling,' her endearing goofiness, and boundless playfulness make her love contagious.
It became evident that her numerous rehomings were a result of profound trauma and early-life abuse, leading to PTSD and fear-based redirected aggression. In response, we made a commitment to her healing journey, offering our enduring love and collaborating with an animal behavioral psychologist.
Over the years, Ahsoka has made remarkable strides, demonstrating that unconditional love and tailored, compassionate care can mend even the deepest wounds. Her story serves as a testament to the resilience of animals recovering from abuse, reminding us that, indeed, 'Good dogs wear muzzles.' and 'All dogs are good dogs.'.
Help us help them.
Join our small but mighty non-profit in our mission. Your support fuels our work, from caring for our wolfdog pack to sanctuary upkeep. Help us upgrade and expand, saving more lives. Make a tax-deductible one-time or recurring donation, fulfill our wishlist, symbolically adopt a wolfdog, or subscribe as a pack angel on Patreon. Explore all ways to support below. Thank you!
Support Wolfdogs
Frequently Asked Questions
Can we come visit your sanctuary?

Not yet. We are working on being setup to have appointment only visitors. Stay tuned.
Can we adopt your wolfdogs?

We do not rehome our rescues, due to their specific needs, their forever home is here with us at the sanctuary.

If you're interested in adopting, we HIGHLY suggest rescuing a husky at your local shelter, or through Husky Halfway House (they deliver all over the US).
Can I surrender my wolfdog to Black Moon Wolfdog Sanctuary?

As a small sanctuary run by 2 people, we intake new rescues on a case-by-case basis, as our current resources will allow.

We suggest:
-Working with an animal behaviorist like Tony Nila, virtually or in person, first. To avoid rehoming.

-Contacting other wolfdog rescues that DO offer rehoming.

-Joining one of the many wolfdog rehoming groups on Facebook, to see if you can find a suitable home. There are lots of people interested in wolfdogs as pets, but please make sure they're in a legal state and are equipped for a wolfdog.

-If you have tried all of these, or your situation is uniquely urgent or a high-risk adoption emergency, contact Mētztli about sanctuary availability and eligibility.
How much wolf are the Black Moon wolfdogs?

As a Black and Indigenous founded and run organization, we do not subscribe to blood quantum politics, for wolves, other animals, or people.

Blood quantum politics are intrinsically genocidal and ecocidal.

Ours and Mētztli's philosophy is that you can't be part anything, you're a whole being. In our eyes ALL wolfdogs are 100% wolf and 100% dog. IF we are speaking to the relevance in wolf content as pertains to their needs, we may say "higher or lower content".
What's the best way to help?
Our founder & director
Black Moon Wolfdog Sanctuary is proudly founded and directed by Black and Indigenous leader, Mētztli Wolf. (They/them)
A psychic animal communicator, eco-anarchist punk, and wild spirit by nature- their mission and ethos is to: rematriate the land, sustainable Indigenous land stewardship, live eco-centrically, teach interdependence, advocate for unloved creatures, predators, and to make sure no pack member is left behind.
Black Moon Wolfdog Sanctuary is their dream and vision, come true.
Read More
Our mission
Rescue

We've already rescued 7 wolfdogs at the sanctuary, and many more through community efforts. However, our mission is to save them all, and we can't do it without your help. We're working on strengthening our infrastructure to welcome more wolfdogs, and once we're at capacity, we won't stop there. We intend to share any 'extra' funds with other wolfdog and husky rescues, ensuring every one of them finds a forever home.

Advocacy + Education

While many remain unaware of the ongoing crisis facing wolves, wolfdogs, and huskies, those who understand are eager to lend a hand in their rescue. We take action through education, advocacy, and virtual organizing. Our approach involves dispelling myths with scientific truths and reshaping cultural perspectives on apex predators with insights from Indigenous wisdom.

Ecocentric stewardship

Wolves, wolfdogs, and huskies hold a sacred place in our natural world. As an interdependent species on this planet, it's our duty as the dominant species to safeguard, nurture, and coexist harmoniously with all of nature. At Black Moon Wolfdog Sanctuary, our commitment lies in sustainability, reducing our environmental impact, fostering an ecocentric mindset, and promoting biodiversity. We strive to leave our Earth in a better state than we found it. Rooted in the principles of Indigenous land stewardship, we work tirelessly to protect wolves and their kin, the guardians of our ecosystem, ensuring prosperity for all.